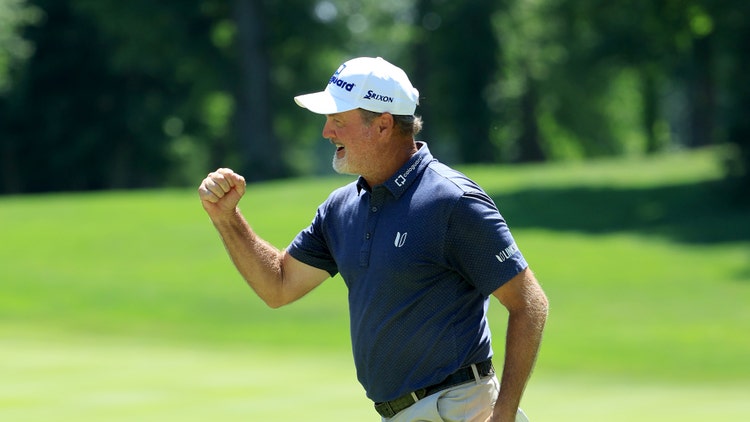 Field announced for Kaulig Companies Championship
2023 Kaulig Companies Championship, July 12-16, 2023
AKRON, OH - The Kaulig Companies Championship, scheduled for July 13-16 at Firestone Country Club, announced its 78-player field on Monday.
Defending champion Jerry Kelly returns to Firestone Country Club in 2023 after finishing 1st-2nd-1st in the last three Kaulig Companies Championships. He is one of seven past champions in the field along with Steve Stricker (2021), Retief Goosen (2019), Vijay Singh (2018), Scott McCarron (2017), Bernhard Langer (2014, 2015, 2016) and Kenny Perry (2013).
Stricker, who currently sits atop the Charles Schwab Cup standings, won each of the first two majors of the 2023 season (Regions Tradition, KitchenAid Senior PGA Championship) before finishing runner-up at the U.S. Senior Open two weeks ago.
Langer, who won the U.S. Senior Open for his record-setting 46th win on PGA TOUR Champions and record-extending 12th senior major title, is the lone three-time winner in Kaulig Companies Championship history. Langer is one of six World Golf Hall of Fame members in the field, along with Goosen, Singh, Charles Schwab No. 5 Ernie Els, Colin Montgomerie and Jose Maria Olazabal.
Olazabal, a two-time winner of the NEC World Series of Golf (1990, 1994) at Firestone Country Club, is among the past winners on the famed South Course in this week's field. That list of winners also includes David Duval (1998 NEC World Series of Golf), Darren Clarke (2003 WGC-NEC Invitational), Stewart Cink (2004 WGC-NEC Invitational) and Singh (2008 WGC-NEC Invitational).
Cink, who turned 50 on May 21, will tee it up for just the second time on PGA TOUR Champions after finishing third in his debut at the KitchenAid Senior PGA Championship. Cink, who won the 2009 Open Championship, owns eight PGA TOUR victories, most recently winning the 2021 RBC Heritage.
In all, the 2023 field includes 23 PGA TOUR Champions major winners, 18 PGA TOUR major winners, 53 players who have won on PGA TOUR Champions (combining for 266 wins) and 63 players who have won on the PGA TOUR (339 wins). Additional notables include reigning PGA TOUR Champions Player of the Year Steven Alker, Charles Schwab No. 4 Stephen Ames, No. 8 Miguel Angel Jimenez and two-time major winner John Daly.
The winner of this year's Kaulig Companies Championship will receive an exemption into the 2024 PLAYERS Championship.
The Kaulig Companies Championship is the fourth of five majors on PGA TOUR Champions in 2023. The final major of the season, The Senior Open Championship presented by Rolex, will be contested July 27-30 at Royal Porthcawl Golf Club in Wales.
2023 Kaulig Companies Championship Field (78)
Alker, Steven
Els, Ernie
Montgomerie, Colin
Allen, Michael
Estes, Bob
O'Neal, Timothy
Ames, Stephen
Flesch, Steve
Olazábal, José María
Andrade, Billy
Forsman, Dan
Pampling, Rod
Appleby, Stuart
Franco, Carlos
Parel, Scott
Atwal, Arjun
Frazar, Harrison
Pate, Steve
Austin, Woody
Funk, Fred
Pavin, Corey
Beckman, Cameron
Gay, Brian
Pernice Jr., Tom
Begay III, Notah
Gogel, Matt
Perry, Kenny
Bertsch, Shane
Goosen, Retief
Petrovic, Tim
Bohn, Jason
Goydos, Paul
Pride, Dicky
Broadhurst, Paul
Green, Richard
Quigley, Brett
Browne, Olin
Hensby, Mark
Senden, John
Cejka, Alex
Huston, John
Short, Jr., Wes
Choi, K.J.
Janzen, Lee
Singh, Vijay
Cink, Stewart
Jiménez, Miguel Angel
Sluman, Jeff
Clarke, Darren
Kelly, Jerry
Stankowski, Paul
Daly, John
Labritz, Rob
Stricker, Steve
Dawson, Marco
Langer, Bernhard
Sutherland, Kevin
Day, Glen
Lehman, Tom
Tanigawa, Ken
DiMarco, Chris
Leonard, Justin
Toms, David
Dodd, Stephen
Maggert, Jeff
Triplett, Kirk
Duke, Ken
Mayfair, Billy
Verplank, Scott
Dunlap, Scott
McCarron, Scott
Waldorf, Duffy
Durant, Joe
Mediate, Rocco
Weir, Mike
Duval, David
Micheel, Shaun
Yang, Y.E.