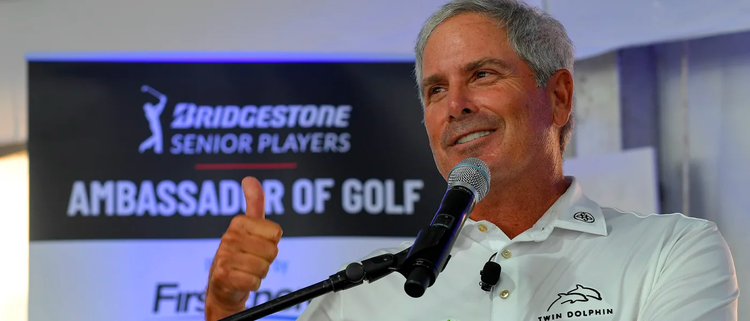 Ambassador of Golf
Presented by FirstEnergy Foundation
AMBASSADOR OF GOLF
The Ambassador of Golf event is a fundraiser benefiting Northern Ohio charities serving on the frontlines of health and human care. In 2022, the Kaulig Companies Championship and the Ambassador of Golf event distributed $950,000 to dozens of Northeast Ohio charities, including: Akron Children's Hospital, UH Rainbow Babies & Children's Hospital, Summa Health System, Cleveland Clinic Akron General, Summa Health System, The First Tee, United Way Summit & Medina Counties, the Akron-Canton Regional Foodbank, and the LeBron James Family Foundation.
NBA Champion Stephen Curry is the 2023 recipient of the Ambassador of Golf Award presented by FirstEnergy Foundation. Curry will be recognized on Saturday, July 8, 2023, at the 2023 Kaulig Companies Championship at Firestone Country Club in a private event that serves as a charity fundraiser. The Ambassador of Golf Award honors a person who has fostered the ideals of the game on an international level and whose concerns for others extends beyond the golf course.
In addition to Curry being named the 2023 Ambassador of Golf, PGA TOUR Champions has partnered with UNDERRATED Golf to host an event at Firestone Country Club featuring 96 junior golfers that includes 48 boys and 48 girls ages 12 to 18 from across the country. This event will be hosted from Thursday, July 6 through Saturday, July 8 on the South Course at Firestone Country Club – the same course where the Kaulig Companies Championship will be contested the following week.
AMBASSADOR OF GOLF RECIPIENTS
1981 Chi Chi Rodriguez
1982 Bing Crosby
1983 Byron Nelson
1984 Gene Sarazen
1985 Gerald Ford
1986 Bob Hope
1987 Dinah Shore
1988 Joe Dey
1989 Frank Chirkinian
1990 Barbara Nicklaus
1991 Arnold Palmer
1992 Nancy Lopez
1993 Roberto De Vicenzo
1994 George H.W. Bush
1995 Michael Bonnallack
1996 Deane Beman
1997 Peter Thomson
1998 Ken Venturi
1999 Gary Player
2000 Ben Hogan/Sam Snead
2001 Del de Windt
2002 Joanne Carner
2003 Robert Dedman Sr & Jack Vickers
2004 Lee Trevino
2005 Pete Dye
2006 Ken Schofield
2007 Tony Jacklin
2008 Charlie Sifford
2009 Hale Irwin
2010 Tom Watson
2011 Nick Price
2012 Sir Nick Faldo
2013 Jack Nicklaus
2014 Johnny Miller
2015 Judy Rankin
2016 Davis Love III
2017 Peter Jacobsen
2018 Jim Nantz
2019 Fred Couples
2021 President George W. Bush
2022 Condoleezza Rice
2023 Stephen Curry